'Everlastings – the flower you need, with the water you don't have'
$
30000
+
Raised for Breast Care WA
Hi Lucinda,
 
I watched the program on the ABC showcasing your wonderful everlastings. In the past I haven't had much success, but this year I decided to try your seeds and WOW!!! What a spectacular show of pink and white hues amongst my other flowering natives.  The flowers have provided much needed Spring colour to our suburban cul-de-sac with neighbours often stopping and commenting on how great the garden looks and thanking me for providing them with an inviting garden. Thanks for sharing your story.
The flowers are amazing; beautiful and fresh into the hot summer months! I planted my packet at the end of August in my garden in Dandaragan, and with regular watering, the flowers were beautiful and lasted well past Christmas Day! Certainly will be growing these again to make my garden look fab, even during summer!
Andrea, Dandaragan Community CRC Coordinator
I love these plants for adding colour to my garden. I just sprinkled them onto the ground to fill in areas in-between plants, and they grew perfectly and made my garden look really full, and added so much colour in Spring. They are fantastic because the packet goes such a long way!
Helen Bignell, Broomehill
These flowers are so easy to grow and I am NOT a green thumb! I had an area outside my house (if you can call it a garden!) and threw a 20g packet onto the ground, with nothing else. And they came up beautifully and then the flowers were AMAZING in Spring! Wow! Everyone thought I was really good at gardening hahahhahah
I planted the Everlastings in a pot near my front door, and they came up and flowered beautifully. I only planted a few seeds, as I didn't want to over-plant the pot, so they were very orderly and neat and not overcrowded. They were certainly a GRAND statement to the entrance of my home and everyone commented about them. I will grow some more this year, and maybe add some more pots.
Claudette
Avid gardener, Como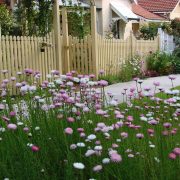 Our garden was very well prepared before we sowed Everlastings. We removed all weeds, mulched and fertilised, and anticipated the onset of snails and bugs, thus placed snail pellets with the seed. With through the Everlastings Seed onto the soil surface in early April, and the seeds germinated in two days. They never looked back. We liked the look of the everlasting plants growing, but the flowers were extraordinary!
Mary
Cottage garden, Shenton Park